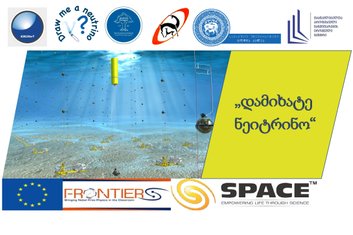 "Draw me a Neutrino!" -KM3NeT Scientific-Creative Competition
'Draw me a Neutrino!" includes three age categories -
I- "Young Physicists" - for children below 12, who were asked to draw an electronic neutrino;

Neutrino - There are still many mysteries about the nature and characteristics of this tiny particle. The mission of KM3NeT is to reveal all these mysteries and to achieve this specific goal a scientific-creative competition has been announced.
On the 4th November 2020, the winner authors were revealed:
I Category: Dvalidze Sandro and Kvaratskhelia Sandro;
II Category: Japaridze Mariam, Darjania Mariam, and Shavelashvili Keti;
III Category: Abramishvili Mariam, Lazarashvili Gvantsa, and Zakareishvili Tamar.
Due to the current pandemic situation in the world, the award ceremony was held through an electronic platform, which was attended by 500 representatives from 16 countries.

Georgian participants of the competition were presented by Revaz Shanidze, Professor of Ivane Javakhishvili Tbilisi State University the Institute of High Energy Physics.
Academia Europaea Tbilisi Knowledge Hub congratulates each of the winners and wishes them further success!
This competition was organized by

• Ivane Javakhishvili Tbilisi State University, Institute of High Energy Physics;
• TSU "Children's University"
• Regional center of Academia Europaea
• National Center for Teacher Professional Development;

II category - "Teenagers" - for the age between 13-19, their task was to draw Meon neutrino;
III category- 20 years and above -to represent "Tau Neutrino"-in the form of a painting.